BY DEB PETERSON • dpeterson@post-dispatch.com > 314-340-8276
| Posted: Monday, May 16, 2011 5:02 pm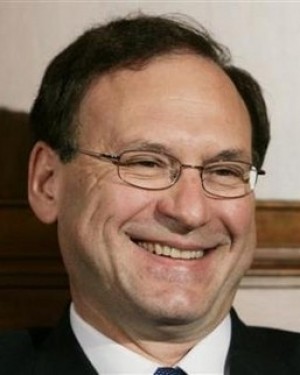 Samuel Alito
ALITO'S TOP TEN: In the top ten list of things people don't know about the U.S. Supreme Court, Justice Samuel Alito told about 500 lawyers in downtown St. Louis on Monday, is how unimportant it is for the court to hear oral arguments.
Preparation is what's most important, Alito said, adding that each justice may review 500 or more pages in briefs on a case. He also noted that the justices are "pushing 50 percent" in the number of words spoken during an oral argument, which means the lawyers who are arguing the cases are not speaking much more than the justices.
Alito's remarks were made at a Law Day gathering at the Hyatt Hotel hosted by the Bar Association of Metropolitan St. Louis, an event organized by President Thomas G. Glick.
He told the gathering another misconception is that law clerks do all the work and that the justices have huge staffs.
"We are very independent," Alito said, adding that each justice has a staff that includes three career non-lawyers and four law clerks, each of whom serves for a year. "We are not manipulated by our clerks."
He said the justices help maintain a good working relationship by their agreement to lunch together on conference or hearing days and that they have only one rule: "We don't discuss cases. We talk about our families, we talk about our lives outside the court, but we don't talk about cases," he said.
Alito said he had been perturbed by a flurry of reports some months ago regarding how seldom Justice Clarence Thomas asks questions during oral arguments. Alito said he wished it had been noted at the time that there was great historic precedence for not asking questions during arguments and that one of the greatest justices of all time, John Marshall, had a policy of listening and not talking.
The last misconception Alito mentioned was that the court is "pro-business."
He said some time ago he was watching TV while on his treadmill and with slim pickings on shows, he resorted to watching a commentator talking about the Supreme Court. The commentator said the court's "pro-business" slant was the result of Chief Justice John Roberts and Alito having come from jobs with the Chamber of Commerce.
"I almost fell off my treadmill," Alito said. "I wondered if I was suffering from amnesia and thought I'd better check my resume. The only employers I've ever had have been the Department of Justice and the Supreme Court. I've never earned an honest living."
Alito was introduced at the gathering by 8th U.S. Circuit Court of Appeals Judge Duane Benton, a Springfield, Mo., native who was a classmate of Alito's at Yale Law School. They graduated in 1975.
After Alito delivered his remarks, Bar Association President Thomas Glick presented him with a baseball bat in honor of Alito being a well-known baseball fan, although of the wrong team (Philadelphia).
Since the Cards are playing Phillie tonight, we couldn't help but wonder whether that had a role in Alito's agreeing to be the keynote speaker at the Law Day lunch.
Alito said that when he got to St. Louis last night, he asked the U.S. Marshalls who were driving him from the airport to take him past a certain address before they dropped him at his hotel.
"I'm a big baseball fan and I had to see Sportsman's Park, Busch Stadium," he said, referring to the old ballpark that was at 2911 North Grand Boulevard. Alito said he couldn't miss seeing where such baseball legends as Stan Musial, Lou Brock, Red Schoendienst, Dizzy Dean and Rogers Hornsby had played.
Not surprisingly, Alito was headed to the ballpark tonight. One of his companions, Senior U.S. District Judge E. Richard Webber, was decked out in a suit with a red shirt and red tie. Once the festivities were over, Webber yanked a Cardinals cap out of his pocket and put it on.
Webber said he's been traveling a lot in his role as senior district judge. He recently heard a criminal case in California and said he'll be in Phoenix and Tucson later in the summer to hear more cases. We also bumped into Bill Corrigan, who said he considered another run for office but decided to wait awhile to spare his family who stood by him in his failed bid for St. Louis County Executive against Charlie Dooley.
Supreme Court Judge Richard Teitelman was there to get the organization's 1911 Award, while retired U.S. District Court Judge Stephen Limbaugh, Sr., was on hand to receive the Community Awareness Award.
"I think I'm the only one here who's not a judge," quipped former U.S. Sen. John Danforth, who shared the dais with the judges.
Also spotted among the suits was Jerry Carmody, who said he's been busy with the case of Francine Katz v. Anheuser-Busch. Carmody's representing A-B in the discrimination suit brought by the brewer's former highest-ranking female executive, who was the VP of communications and consumer affairs. Seen heading to the VIP room after the lunch was Lynn Whaley Vogel, president-elect of the Missouri bar. Vogel's name, along with that of her husband, Paul Vogel, has been linked to the scandal surrounding attorney Martin Sigillito.
Read more:
http://www.stltoday.com/news/local/columns/deb-peterson/article_873af5a6-8008-11e0-8324-001a4bcf6878.html#ixzz20H32nBlP