Recent Posts
Recent Posts about Thomas Glick and his Law Practice
Subscribe to posts
I have seen a lot of strange requests in wills and trusts. I am happy to help you with any unusual requests you might have for your will (or just pretty normal ones). Read more about strange requests here.
The Law Offices of Thomas G. Glick are pleased to announce the hiring of Abigail Helle-Krull as a new legal secretary for the St. Louis County based firm.

Helle-Krull is a 2013 graduate of St. Louis Community College, with an Associate's Degree in Legal Studies for the Paralegal. Her first day working for the Law Offices of Thomas G. Glick
 will be January 4, 2016.
Helle-Krull brings with her years of experience working for Schnucks Markets, starting as an office cashier in 2002 before spending time in 2013 as a Paralegal Intern.
During her time at St. Louis Community College, Helle-Krull graduated with honors, gaining membership in the Phi Beta Kappa honor society. A Robertsville, Missouri native, Helle-Krull will bring a new face to the law firm.
"We are thrilled to hire someone like Abigail to join the firm as a legal secretary," says Glick, who recently celebrated his twentieth year as a licensed attorney, "I look forward to the help that she will provide for everyone involved with the firm. Our clients will appreciate her addition and I can't wait for them to have the opportunity to meet her and see what we see in her."
Best of CLE Spotlight
Recognizing Outstanding Leadership and Dedication to MoBarCLE
Thomas G. Glick
The Law Offices of Thomas G. Glick, LLC
St. Louis

Through his frequent presentations at MoBarCLE seminars, Thomas G. Glick has made a substantial contribution to the continuing legal education of Missouri attorneys.  For more than two decades, he has presented at MoBarCLE programs and conferences regarding estate planning, probate administration, and elder law. He authored two chapters in The Missouri Bar Deskbook Estate Administration, co-authored the Probate Shortcuts Guidebook, and has written numerous articles published in the St. Louis Bar Journal, theSt. Louis Business Journal, and the Journal of Dispute Resolution. Mr. Glick is also a member of The Missouri Bar Continuing Legal Education Committee.  In addition to this work, he served as President of the Bar Association of Metropolitan St. Louis from 2010-2011, and has served in many positions and on BAMSL sections and committees, including as Chair of the Probate and Trust Section. Mr. Glick currently serves as the President on the Board of Directors for Legal Services of Eastern Missouri, and has also served on the Missouri Governor's Advisory Council on Aging.
In recognition for his many hours of pro bono service, Mr. Glick received an award in 2002 from the Volunteer Lawyer Program of Legal Services of Eastern Missouri.  In 2005, he was honored for his work as the recipient of the BAMSL President's Outstanding Service Award.
Mr. Glick earned his B.A. in government from the University of Texas at Austin and his J.D. from the University of Missouri School of Law in Columbia, where he was inducted into the Order of the Barristers.  Following law school, he worked as a staff attorney at the St. Louis County Probate Court.  He left that position to enter into private practice, initially as a sole practitioner and later as a member of Danna McKitrick, PC.  Mr. Glick left the firm to return to solo practice, concentrating in the areas of probate administration, fiduciary litigation and special education law.
Please join The Missouri Bar in thanking Thomas G. Glick for his outstanding service to and on behalf of the legal community!
For the original version of this post, please visit: http://www.mobar.org/esq/jan31/index.htm
For more information click here : http://www.bamsl.org/?125
Finding inspiration to help repair the world
Share

Print

Font Size:
Posted: Thursday, January 30, 2014 10:31 am | Updated: 3:11 pm, Thu Jan 30, 2014.
By Gail Appleson | 0 comments
Just one month after joining the St. Louis Post-Dispatchas a reporter, I interviewed an attorney who showed me what it means to try to repair a broken world. Although that was more than eight years ago, I will always remember the lawyer, Michael Kornblum, and his selfless passion for helping those in need. 
In addition to his full-time job as an in-house counsel at Safeco Insurance, Kornblum volunteered for Legal Services of Eastern Missouri (LSEM). It was through LSEM that he handled a heart wrenching pro bono case involving an indigent man with a history of mental problems. Kornblum was determined to do everything he could to rescue the man and his family from a fraud that had exposed them to thousands and thousands of dollars of debt and taxes. 
Although the case took a great deal of time and Kornblum made numerous trips to the client's home, he seemed unfazed by the extra effort. 
"I just felt like it was a situation where someone was clearly taken advantage of," Kornblum had told me at the time. Although he died in 2010, I immediately thought of him when a colleague commented recently that she was surprised to learn that I am an LSEM volunteer.  
"But you're not a lawyer," she said.
She's right. I'm not. And it's true that lawyers are the ones with an ethical obligation to provide pro bono services to the poor who otherwise would have no access to the courts. However, I do have the privilege of working in the legal profession since I'm now employed as an editor at Armstrong Teasdale. Because of that, I believe that the pro bono duty extends to me.
But there's another very important reason that I volunteer for LSEM: tikkun olam. 
These words, which can be found in the prayer Aleinu, translate to repairing or perfecting the world. Some say the phrase means we have a responsibility to partner with G-d to make the world a better place. Over the years,tikkun olam has also become associated with the pursuit of social action and social justice. 
It's a fundamental concept that many of us learn as children. In fact, every time I say the Aleinu, I think of my father who was always quick to help those in need and stand up for what was right. One inspiring incident happened in the 1950s when I was growing up in a still-segregated Memphis. We lived adjacent to an African-American neighborhood and my father and older brother used to play baseball with black children who lived nearby. The games took place in a vacant lot behind our house. One summer evening a man from the "White Citizens Council" came knocking on our door. He wanted Dad to stop this interracial fellowship. 
My father was furious and threw the man off our property, warning him never to return. 
Another example comes from Dan Glazier, the executive director of LSEM. Glazier was named a Jewish Light2010 Unsung Hero. In the paper's article about the honor, Dan described how he was influenced by his mother, a social worker, and his father, a dentist, who made giving to others a priority. Glazier remembers his father's dental practice was "in some ways like a social service agency" because of the reduced and free dental care he donated.
I can't help but think the concept of tikkun olam is a key reason that so many Jews are drawn to work or volunteer for LSEM. Serving clients in 21 counties in Eastern Missouri, LSEM's trained staff provides legal support and matches social services for the victims of domestic violence, children with special education requirements, families in need of adequate health care or struggling to obtain affordable housing and many more issues that impact the quality of life of the poor and elderly. 
"Our goal is to help our clients to first survive and ultimately thrive…to keep the American dream alive for our clients," Glazier told the Light. 
LSEM has a paid trained staff but it also relies on a network of volunteer lawyers and other professionals. It's especially important to think about LSEM this time of year because the non-profit group will soon host its largest annual fundraiser called the Justice for All Ball. The heart of this black-tie event, which will be held Saturday, Feb. 22, is a silent auction in which attendees open their wallets to provide necessary operating funds for the organization. 
Volunteers, many of whom are Jewish, are in the process of asking businesses and individuals throughout the community to donate items for the upcoming auction. I have to admit that soliciting items is not something I'm entirely comfortable doing so I have great admiration for my fellow volunteers who don't blink an eye about knocking on doors. 
Among them are Brenda Glick, Judy Gorin and Saraann Parker, who have been tirelessly pursuing items for weeks.
I asked Parker, who is co-chair of this year's auction and a lawyer at my firm, how she has the courage and the energy to do it. In addition to her heavy work schedule, she is also busy planning her son's upcoming bar mitzvah.
Like Kornblum, Glazier and so many others with ties to LSEM, Parker seems totally matter-of-fact about her extra efforts. She sees a need and is driven to meet it.  
"If it's important enough, you have to overcome fear and charge ahead to the goal at hand," she said. "I don't want to live with 'what if' regrets."
Found at http://www.stljewishlight.com/opinion/commentaries/article_f3012bc8-89cb-11e3-a827-001a4bcf887a.html
There are many different reasons why you might want to have a Trust. You might want to avoid probate; provide for minor children; provide for someone too young or who lacks the ability to manage money; avoid paying federal estate taxes; contribute to charity; distribute real property, particularly if it is located in another state; keep property separate; provide for yourself and your care if you become incapacitated and avoid a conservatorship proceeding, maintain privacy; and decrease the possibility of a legal challenge to the way you want your property distributed. If any of these situations apply to you, you should consider using a Trust as part of your estate planning.
Probate is the legal process where a court oversees the payment of debts and distribution of property under a Will. This can be a slow and costly process if the estate is even moderately large and complicated, and all details of the estate are made public as part of the court proceedings. Several states have summary procedures for small estates, but if your estate does not qualify for a summary procedure, you would be a good candidate for a Trust. If you transfer assets to a Trust while you are alive, when you die, the assets belong to the Trust, not to you, so they are not included in probate, but will be distributed in the way you direct in the Trust documents. The process of distribution will be private and confidential.
Minor children can't inherit property, but require an adult to manage property for them until they reach the legal age of majority in the state where they live. A parent can nominate a guardian for the child's financial matters in a Will, but the probate court will have the final say on whether to approve the appointment. If you transfer assets to a Trust that is for the benefit for your children while you're alive, you can name the Trustee(s) and alternate Trustees who will control the Trust when you die. It's possible for a court to remove a Trustee you have appointed, but only for misbehavior, so you have more control over who will control your children's assets.
If you leave children assets in a Will, the children receive full control of the assets when they come of legal age. In most states this is 18, and if the assets are large, an 18 year old may not be ready to manage that amount of money. If you set up a Trust, you can control when the young person will receive full control of the assets, such as at age 25 or 30. Some older adults are also unable to manage money well. This may be because of a developmental disability or just because the person lacks money skills. If you want to leave assets to someone like that, you might want to set up a Trust that will control the assets throughout the life of the Beneficiary. People also want to leave money for the care of pets that survive them, and a Trust is a good way to do that.
If your estate is over the minimum amount for paying Federal Estate Tax($1 million minimum) Trusts can be used to exempt some of your assets from your taxable estate. This can reduce your total estate to an amount below the estate tax minimum. You can also receive tax benefits during your lifetime by setting up a Trust that makes a donation to charity when you die but keeps the income for you while you're alive.
Probate laws differ from state to state, so to avoid unforeseen results under different laws, if you own real property in different states you can put that property in a Trust while you're alive so there will be no change when you die. The Trust will continue to own the property, and there will be no reason for the various states to be involved in how the property is distributed.
If you want to make sure that certain property is not divided between beneficiaries, which might result in the property being sold, you can put property in separate Trusts and give separate instructions for distribution. That way, it won't be possible for a court to decide that the property can be divided and/or sold.
If you become incapacitated from old age or some accident or illness, someone will need to take care of your financial affairs for you. By setting up a Trust where another Trustee will take control of your assets if you become incapacitated, you can prevent someone from filing a petition to be named your Conservator. A court will only appoint a Conservator if no other arrangements have been made, so the court is not likely to grant a conservatorship to someone else if you have already made adequate arrangements for your own care. This allows you to choose who you want managing your affairs and allows you to exercise future control in the way you set up the Trust.
In a conservatorship hearing, all of your affairs are made public, including details of your alleged incapacity. Most of us would not want the details of our private lives to be discussed by others in a public courtroom, so a Trust that avoids this is useful. Trusts can also provide privacy about your assets. If you don't want all the details of your assets and the assets you are passing to others to be made public, you can use a Trust to preserve privacy.
Finally, if you think someone might challenge a Will because they don't like how you want to leave your property, you can make such a challenge much more difficult by using a Trust instead of a Will. To prove a Will invalid the challenger has to show that you were incompetent at the time the Will was drafted and executed. A Trust isn't just drafted and executed at one point in time. Assets are often transferred to the Trust over a long period during the person's lifetime and the Trust may manage those assets for many years before the death of the Grantor. While you must be legally competent at the time you set up a Trust, it is more difficult to prove such a Trust invalid than a Will, since the challenger has to claim that the person was incapacitated not only when the Trust was set up, but during every transaction that the Grantor carried on during the life of the Trust.
For further information, see 
Estate planning: Is a trust beneficial?
These tools aren't just for Rockefellers. Use the tips below to determine whether or not setting up a trust the best for you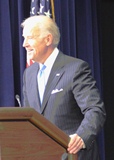 Vice President Biden and other senior administration figures, chief justices of three state 
supreme courts, the chief judge of New York state, and leaders of the legal profession from across the country gathered at the White House on April 16, 2013 for a program entitled "A White House Forum on Increasing Access to Justice." It was the second such event that the Legal Services Corporation has co-hosted with the White House and Thomas Glick was there.
Our journey as a special needs family has had amazing highs and astonishing lows. Through it all, I've experienced the joys of a family growing stronger together in the face of a true unknown with Katy's chromosome deletion. Even with all of that strength, we are still faced daily with obstacles and emotions that we don't show many - if any - people at all. In the interest of helping others understand what goes on in our lives every day, here are five things you should know about a - or rather about our - special needs family, at least through my eyes.
1. We're ostracized.
Whether you realize it or not, we're outsiders. We have an all-consuming fear that something will happen to our child because she can't protect herself the way a "normal" child can. We worry that she can't say "Stop" or "Don't" - or that she won't realize she should have said it until it's too late. We worry that people simply won't understand our child. We have seen the sideways glances and rolled eyes from strangers when our child does something they consider rude or disrespectful. We've been verbally accosted by strangers who feel we shouldn't have used a handicap parking spot for our "normal" looking child before I can even pull the wheelchair out of the back. We've listened to parents at our children's school complain about how our child is somehow holding their little boy back. We've dealt with the inconsiderate use of the word "retarded" from our children's own friends to even one of our child's doctors. And no matter how many well-meaning people try to help, we will still feel alone.
We end up by ourselves at parties, whether we have our little girl or not. If she's with us, than we're constantly watching her to make sure she's okay. We don't make our rounds and say "hi" to everyone. We simply can't for the reasons I've mentioned above. If she's not with us, then we're worried that something will happen to her away from us. We don't go out with our friends the way we used to because it's too frightening to leave her with someone whom might not understand what she's trying to say or to sign. Sometimes its even too hard to get your own family to understand just how stressed out you are.
2. We're jealous.
Even with a family like ours where four wonderful kids help out every day, we can't help but feel a tiny pang of jealousy every time a child younger than our little one simply walks up to us. Or talks to us. Or runs past us on the way to ask someone for money.
Know what's even worse? It makes us feel guilty as hell, because we're so proud of everything our child has accomplished. This little girl has worked harder than any of our other children to accomplish everything she has been able to do - and we wish it wasn't so hard. We hate that that little pang of jealousy hits us because this "normal" child in front of me didn't ask for my little girl to have a chromosome deletion. This child doesn't realize that when he talks to me, for a split second, I think "Why? Why did this happen to my child and not to you?" And then I have to put that thought as far away as possible because it's not fair to that child or to my little girl.
If/When Katy reads this sometime in the future, I want her to know that we have never regretted a second with her. You made us become better parents and better people. You amaze us every day with every single accomplishment you have piled on top of accomplishment.
3. We're scared.
We try to do everything we can to set our child up for success and we always worry that we're not doing enough. Or we're doing too much. Or we're doing the wrong thing. Or we haven't done enough research. Or we won't be able to afford that. Or how will we be able to afford that? On a daily basis, we wonder whether the decisions we're making today will improve or degrade her quality of life. And we do it knowing full well we'll never know the answers to those questions until they arrive - for better or worse.
We constantly worry about money because everything involved with caring for a special needs child costs way, way more than it should.
We worry what will happen to our little girl when we're gone. So we hire lawyers to draw up special needs trusts so that our child will be financially protected when we're gone and won't find herself fighting the same fights we handle now for assistance and benefits. Did I mention that we worry about money?
4. We're good at hiding things / We're not good at hiding things.
I am a deeply private person and became even more so after my daughter's issues arose. I've rarely expressed my deepest feelings too anyone save my wife. And sometimes I haven't been able to even do that. I internalize the problems we deal with and swallow them whole, because that's what a strong father, husband - a strong man - does. What was it that the old deodorant commercial said: "Don't ever let them see you sweat." I have never wanted anyone to know just how terrified I have been. I'm not sure I want them to know now.
In this day and age, Facebook has become an unbelievable lifeline and community for my wife. She found an entire village of chromosome 6 and other special needs mothers that understood her pain and frustration. That community understood what was going on when she posted what was on her mind. To others, she just seemed rude.
For a private guy like me, it took a lot to start Katy's blog and start to bring some of the emotion of our lives to the public. It has taken even more for me to start to try to become more active within the same online community that my wife finds such comfort in. This post is, by far, the most I've ever revealed about our circumstances. I'm still trying to decide if I'll even hit the post button.
5. We're stronger than you realize. / We're more fragile than you realize.
We've had to deal with watching our child get stuck 26 times over two hours as doctors attempted to get an IV in her. We've given our little girl over to doctors seven times to perform some sort of surgical or medical procedure that involved general anesthesia - more than all our other children combined. We've waited in private agony for her to be returned to us each time, hoping for the best, but scared to death that something will go horribly wrong. We've had to develop incredibly tough skins dealing with red-tape corporations determined not to spend a dime more than they have to on my daughter, even if they're legally obligated to do so. We've fought for what we thought was right and just even when it put us at odds with family and friends.
And we've broken down in each others' arms. We've been hurt by seemingly innocuous remarks that wouldn't have fazed us a day - even 10 minutes before - but for some reason cut through at that very moment. We've hurt each other when our actions haven't lived up to our expectations.
We're human.
So, for our friends and family, for future friends we haven't had the pleasure of meeting yet, for strangers to us who are friends and family to a special needs family somewhere else in this vast (but ever smaller) world of ours: What can you do?
Strive to include. Work to understand. Go out of your way on occasion to help a special needs family out. Realize that the stress and the strain take their toll. We're just trying our best to survive. If we've offended you with our words or are actions in one of these times, we apologize for our moments of weakness. Hopefully, someday, we can move forward together.
We do our best to make our family life look normal and to act like everything's fine. And we wish people might see through that facade every once in a while and understand that we appreciate the slightest effort to make us feel…special.
Originally posted by Todd Oswald on Jul 19 2011at http://hope4katy.com
Children with disabilities have a right to a free appropriate public education (FAPE). Children differ in mental abilities, sensory development, physical traits, emotional or social behaviors, or communication skills. Some may require modification to their school program or special education and related services in order to benefit from their schooling, parents and schools should work together to accomplish this.
Congress recognized that children with disabilities have special needs and passed what is now called the Individuals with Disabilities Education Act (IDEA) in 1975. That law provided that children with disabilities must receive a free appropriate public education (FAPE) in the least restrictive environment (LRE). The law has since been reauthorized six times and this booklet reflects the latest changes made by Congress in 2004. Missouri House Bill 474 and later legislation make it the law of the state to provide special education services, sufficient to meet the needs of all children with eligible disabilities, from the child's 3rd birthday to age 21, at no cost to the parent.
The major purpose of the IDEA is to provide children with disabilities the supports and services they need to learn and progress in their schoolwork. It requires that each child receive a free and appropriate public education (FAPE). As the parent of a child with a disability, you will participate in many meetings, working alongside school personnel in planning the special educational services and supports that your child needs.
Should you have questions about your child's special education services, I recommend you first contact your local school district and speak with your child's teacher(s), principal or the district's Director of Special Education. In addition, there are a number of other resources in Missouri including MPACT (the Parent Training and Information Center) and staff of the Missouri Department of Elementary and Secondary Education (DESE).
Parents are their children's first teachers. Parents are the only lifelong advocate for their child. You are an expert on your child. You observe your child in all of the various environments in which he or she functions over the span of his or her childhood. Parents and educators work as partners to determine the most appropriate education for each child when a child is eligible for special education services. For parents to be effective partners on this team, they must know the special education process. Research has shown that parents' participation in their child's education is important to the child. Your involvement makes a difference.